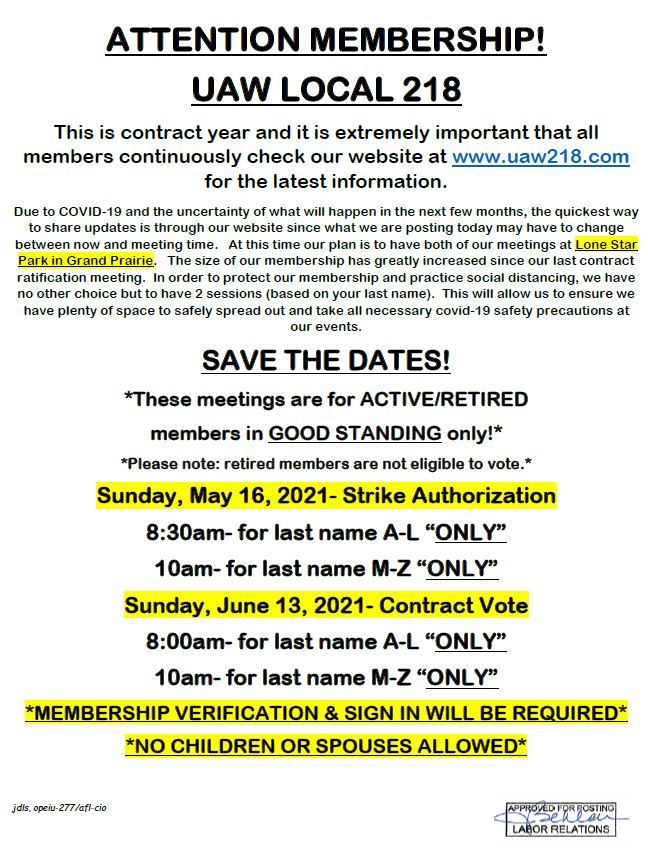 ATTENTION MEMBERSHIP!
UAW LOCAL 218
This is contract year and it is extremely important that all members continuously check our website at www.uaw218.com for the latest information.
Due to COVID-19 and the uncertainty of what will happen in the next few months, the quickest way to share updates is through our website since what we are posting today may have to change between now and meeting time.   At this time our plan is to have both of our meetings at Lone Star Park in Grand Prairie.   The size of our membership has greatly increased since our last contract ratification meeting.  In order to protect our membership and practice social distancing, we have no other choice but to have 2 sessions (based on your last name).  This will allow us to ensure we have plenty of space to safely spread out and take all necessary covid-19 safety precautions at our events.
SAVE THE DATES!
*These meetings are for ACTIVE/RETIRED
members in GOOD STANDING only!*
*Please note: retired members are not eligible to vote.*
Sunday, May 16, 2021- Strike Authorization
8:30am- for last name A-L "ONLY"
10am- for last name M-Z "ONLY"
Sunday, June 13, 2021- Contract Vote
8:00am- for last name A-L "ONLY"
10am- for last name M-Z "ONLY"
*MEMBERSHIP VERIFICATION & SIGN IN WILL BE REQUIRED*
*NO CHILDREN OR SPOUSES ALLOWED*